12.00pm to 16:30pm (Post drinks to follow until 17.30pm)

Join theHRDIRECTOR roundtable, partnered with Bright Horizons, for a discussion dedicated to the tools and strategies that attract, retain and help progress working parents and carers.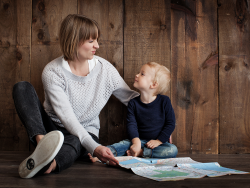 THE PROBLEM:
The UK Government's Spring Budget stated that working parents are one of three target groups to attract and retain, in order to fill skills gaps and fuel economic growth. As the Chancellor put it: "For many women, a career break becomes a career end". Lobbying by the CBI, British Chambers of Commerce and others had convinced the Chancellor of the need to focus on empowering parents to work, in order for employers to have access to much-needed talent. Childcare is one of the keys to labour market participation – with better access to quality, affordable childcare – to solve some of the challenges of the business world.
So, with childcare being officially recognised as a major building block in workforce participation, what will the coming changes mean for working parents and employers and will they be enough? What else is needed, how far does childcare go and what other tools are there that can support parents to progress and flourish at work? What do working parents most want and value and what really keeps them loyal and progressing their careers and skillsets?
HOW WE SOLVE IT:
Now more than ever, working parents and carers are in high demand. Competition is fierce for the talent, skills and experience within this demographic, which also beings much-needed empathy and emotional maturity, forged through life lessons as a parent. We will discuss what employers are currently doing to optimise the Employee Value Proposition for parents and carers, the impacts of the myriad of initiatives and we will also consider the range of approaches, tools and strategies available.
Some of the key points will cover:
How would you describe your current strategy for attracting and retaining working parents and carers?
What would you say are the pinch points, where talent is lost or career progress is compromised by parent and carer status and responsibilities?
In terms of parent and carer support, what have you tried that has been successful and how have you measured it?
Do you provide support with childcare or eldercare and if so, is it ad hoc gap cover or ongoing regular care?
Do you think the 30 hours of funded childcare coming in for all children under five-years old by Sept 2025, will work well for businesses?
What are decision-makers looking for in your organisation, that demonstrates ROI in areas such as; talent attraction, retention and employee experience, particularly for working parents?
(Complimentary refreshments, 2 course sit-down' lunch and post drinks)
**For this debate, we only have 15 places available and we invite registrations from HR & People Leaders**