TURNING DATA INSIGHT INTO IMPROVED EMPLOYEE ENGAGEMENT – Roundtable report
24 May 2018 London
Hosted by theHRDIRECTOR.
Chaired by Jason Spiller.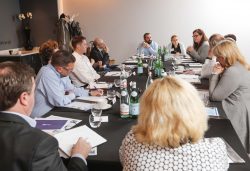 DELEGATES
Kay Abbs, Associate Director of Workforce Development & OD – Medway NHS Foundation Trust
Joanna Balfour, HR Director – Mclaren Applied Technologies
Laura Burton, Head of HR – Civil, Defence & Health UK, Leidos UK
Claire Turner, Head of Talent – Flybe
Katy Downes, Senior Engagement Manager – Network Rail
Devyani Vaishampayan, Founder & Managing Partner – HR Tech Partnership Ltd
Elena Edrenkina, HR Manager – Microsoft
John Greatrex, Group HR Director – Unipart Group
Gemma Hambley, Group Employee Engagement Manager – Edwardian Hotels London
Michael Kerr, VP & Chief HR Officer – Aston Martin Lagonda
Claudia Quinton, Head of Workplace Transformation & Consulting – Sopra Steria
Ian Thomas, Managing Director – UK Commercial Sector – Sopra Steria
The "UK productivity puzzle" is unquestionably a serious concern for all – but if data is merely concurring with a vexatious statistic, is there a disparity between the collection of data, the interpretation and the resultant actions taken? According to Deloitte's Global HCM Trends 2017 report, 78 percent of UK HR Directors rate analytics as "a very important trend". But what does this really mean? If asked whether improvements in aircraft safety was "a very important trend", all would agree, but few would know how it might occur. If your data was incomplete, inaccurate or misleading would you be aware? Can analytics be relied upon if businesses lack the capability to interrogate the quality and accuracy of data? Does HR need a data governance committee, or is the reality that data is still in the "too hard" box?
What do we mean by data? What is your definition, and what sources do you currently draw from?
John Greatrex: We use both qualitative and qualitative data, this includes the usual HR metrics such as employee engagement, employee turnover, absence etc, but as an organisation which is quite process-orientated, we use lean ways of working to measure the effectiveness of key processes and hence the productivity of the organisation and the people in it. The key challenge at the moment is that we gain these different sources of data from different platforms and what we don't have is one source of truth that can give us greater levels of insight in real time – this is very much work in progress.
Kay Abbs: I think sometimes we have too much data and the problem is how you correlate that. Also I am not sure that we always have the ability to analyse that data correctly. There are a lot of KPIs that are difficult to link back to how productive people are. Data on how an individual processes a patient isn't something that is easy to gather.
Katy Downes: We need to be clearer about who owns the data – who is responsible for updating it is such a grey area that organisations can often miss out on someone taking full responsibility for that data, which makes it difficult to maintain. There are different iterations, that is where, in my  experience, you come across problems with data and therefore the insights that you then glean from it.
Michael Kerr: It is often frustrating in HR as we are perceived to be the poor relation when it comes to investment in new systems and we end up with all sorts of manual legacy processes to contend with. I have always tried to piggy-back off whatever the finance team uses, because at least it establishes one source of truth as far as payroll and basic HR data is concerned. However, this can become very complicated in the world of mergers and acquisitions and the challenge of harmonising legacy systems and conditions of employment. Unlike some other sectors we are at a stage of our development at Aston Martin, where the bulk of our investment should quite rightly be in new product development and manufacturing, so there is simply not the capex to spend heavily in HR systems.
Elena Edrenkina: At Microsoft, there has always been a strong focus on using data to gain insights and drive decisions. One area where we have insightful data is through our listening systems and this data is critical to understand the sentiment in the company. While we have a team dedicated to gather the data, analyse it, and provide insights, the follow up actions and responsibility to act on the insights sits with People Leaders. In addition to our annual survey, we recently launched a new listening system, the Daily Pulse survey – sent to randomly selected employees across the company.
Gemma Hambley: We have a lot of data for sure – a multitude of KPIs which, in turn, brings reams of data, and we have a wide variety of inputs from where we can draw conclusions. In hospitality, we have the added factor of external measures of success and engagement; that is TripAdvisor and other external tools. I guess the one thing that we struggle with at the moment is each of our areas of expertise and each of our disciplines, for example; housekeeping, food and beverage etcetera, they have their own tools and sources of metrics.
Claire Turner: It is interesting that we talk about not linking the data to see what it means and not having an owner of data and outcome. Previously, we had a specific Executive Committee (ExCom) member responsible for a certain data metric, such as customer feedback. Whilst we monitor a lot of data we don't always tie it to all the other available data across departments, so we don't see the  cause and effect.
Michael Kerr: It's always worth asking yourself; will this latest HR initiative just receive a 'so what?' response from your peer group at the top table, leading to weary, overworked line managers just feeling they are being dumped on with more process by HR, rather than seeing new initiatives adding value to the bottom line. I guess you can amend people's objectives to include some aspect of behavioural change and link it to pay for example, but how do you do that without feeling like it is forcing it in and then having to police it?
Devyani Vaishampayan: To be taken seriously, you have to apply the data to the business priorities and objectives, that focuses minds – unless you do that, data by itself is not much use, but the  insights are important and I think every business at least tries to have some key business priorities put down, but you have to show linkage.
Katy Downes: Indeed, and you have to consider the 'what's in it for me?' element, and create and promote the feeling that 'HR is doing this for me', in order to gain buy in. If you can maintain involvement, when you arrive at the end of the project, they suddenly find they are part of the solution. That is a very powerful enabler to the effort.
Laura Burton: There is so much going on at such a pace and, consequently, yes there is a lot of data – but is it really useful, and that is the point. We are a very small HR team so having someone within the team who really understands how to analyse the data and produce insightful information is key and very valuable, otherwise it becomes data for data's sake. When you realise what is possible through the technology and systems you realise just how insightful and how powerful it can be; but today, we're working right at the very edge of its capability due to limited understanding of how to use it.
Ian Thomas: There's the saying 'you get what you measure', but actually, I think with a lot of HR metrics, we measure what we can get, and I think that is the biggest problem. We take a whole load of disparate stats that we can pull from the human capital management system and then everybody says, 'so what'? The truth is, we're ignoring 80 percent of data; proper people-related data that comes from general communications and customer feedback. We're too hooked on 'the shape of our pyramids' at the different levels within the organisation.
Kay Abbs: Agreed, what we don't do much of is triangulating the data, so this year I'm working with the Research and Development team to actually dig for the deeper data analysis, and to really crank up the appetite to interrogate, discuss and question.
Claudia Quinton: We stopped running surveys internally about three years ago because we weren't gaining anything out of it. We have just started running them again in one part of the organisation. We created a mobile app with a webbased portal for those who don't want to download the app, so you can have it on your phone, you can access it over the web, and it allows us to pulse the organisation in real-time. We receive very real feedback on what is going on. We started off with some typical employee survey questions about the organisation, about managers etc., to allow us to base-line the organisation and gain insight into how people are feeling now. We then receive that first layer of insight and can interrogate the data to find areas we may want to pursue further. At  that point, we can start drawing other information such as finance data, into our analytics platform to allow us to gather a more holistic view. This helps us drive real commercial insights and support the business, all in real-time.
Ian Thomas: We have added the ability for employees to speak, or video their comment if they want to. We then analyse this data through sentiment analysis. What is fascinating about it is we have more real insight from that, rather than the comments where people are a little bit more guarded. They are just saying how they feel. The intention is that, with a bit of analysis, we can see how people are really thinking.
Kay Abbs: One of the things that immediately struck me is, how hard it is convince people to believe that the survey is anonymous. I am not sure how we would engage with the staff if we had facial recognition. How do you persuade staff that it is confidential? The key of course is that they trust the company they work for in general.
Ian Thomas: It is about giving people choice, you're really going to engage with people that trust you. That's why on the first topic today about data capture, I really don't think it is about the data. I think there is so much more to this than what data you capture and really, the critical thing is what you do with it, and of course demonstrating actions and impacts builds engagement and trust in the whole process.
John Greatrex: We have developed an employee engagement survey, but we don't believe the employee engagement survey actually measures engagement, rather it measures attitude. We use it as an initial diagnostic, and it is useful, and it gives us a starting point in a systemised way because it can then be compared to norm groups – but it's only the start of the process. We then have a process about how we engage and how we run engagement sessions, which are conducted locally.
We also measure whether people use the process and then, most importantly, we empower people to improve their own work and measure what changes people implement. Therefore we can assess changes in behaviours, because that is what engagement is really about.
Claudia Quinton: The pulse survey we use is a single data point. It is not the be all and end all, it is a starting point. Having the technology allows us to gain that information more rapidly from employees and the business, it allows us to speed that process up, which is especially important with the increase in remote working.
What is HR's primary responsibilities and objectives?
Devyani Vaishampayan: There's a big role that HR needs to play to make that data meaningful, to minimise the risks. Also there is an emerging concern surrounding ethics and of course new and incoming laws – GDPR – which are related to the collation and usage of data, because nowadays this data is not purely organisational, it's about the individual. The big issue is about engagement and trust and about how you use this data to build the right culture, which really is the ultimate objective for HR.
John Greatrex: I think the role of HR is to understand the body of knowledge and to understand how engagement works. I do think we should own the body – not in an exclusive sense – we definitely need to share it, but there is a lot of understanding on best practice and how engagement works, and I do think there is part of our professional ethos which should have expertise in that knowledge.
Claudia Quinton: I agree, and I think equally it is helpful if we understand as professionals how that correlates to the commercial outcomes of the business that we're looking after. So, tying this back into the commercial metrics of an organisation, to demonstrate that your productivity has increased by 20 percent, because your employee engagement has gone up by five percent – how great would that be?
Is it a case of being pragmatic and accepting that bad news is actually more useful than good?
Ian Thomas: Totally, if the survey tells you something, look for the reason. It is dead easy to ignore the Glassdoor – people that have left – they left for a reason, so of course they are unhappy. When you receive negative feedback, take a deep breath and say 'thank you very much' and really think, how can we best use this to improve? That's pragmatism and HR has a massive role to play in that education piece.
John Greatrex: Agreed, any opportunity to find problems and see them as a good things because they are the source of improvement. For example, we don't publish league tables on engagement, because you can't compare department by department. We want people to identify problems, and this is an important mindset change for a lot of organisations. Sometimes the worst engagement studies I have seen are when things seem to be perfect… it is never perfect.
Claire Turner: As part of our cultural work – we are at the diagnostics stage – we're running an employee survey and holding group discussions to gain some real understanding and have forthright conversations. This seems to be going well and the feedback is good, and should add another dimension, so that we have both quantitative and qualitative data.
John Greatrex: We do believe in going to see problems first hand and reviewing situations in detail to see the root cause, but what we have found is that the HR function does need to facilitate the process well, because managers and teams can lack perspective, for example overemphasise the negatives – it's important just to pick one or two areas to work on, whilst people learn about the process and build the capability.
Claudia Quinton: Capability is key, there is no point in all that data if HR doesn't have the skills to optimise potential. For me, it's collaborating with data and analytics gurus, proper data scientists, to gain a clear picture of what you intend.
Katy Downes: I'm not sure whether this is a capability question, I wonder if data is something we are even ready to prioritise? If we thought it was really important, we would have the right people with the right skills, or we would buy it in or we would make it happen, but do we really understand the real value of it all?
Laura Burton: You're right, data scientists are really hot property at the moment, and good talent is difficult to source; but from an HR perspective, have we prioritised it? I would say probably not. It comes back to what are the business needs? I think every organisation will be seeking different sets of data and actually, the nirvana, in my view, is that we have predictive analytics, not just reactive.
Michael Kerr: I think the question we need to ask ourselves as leaders in HR is, what does the business actually want from HR and what does the CEO want from me personally? We should have that mapped out first and then start to look at what data we need to fulfil those needs. I certainly do not think it is wrong to pursue predictive analytics and always keep questioning; 'is this actually moving the business forward'?
Joanna Balfour: Traditionally, HR has provided standard data around employee turnover and headcount and, as a profession, we really need to think more creatively and continue to develop the insight we can give to enhance business decision-making.
Michael Kerr: It is also worth looking at the profile of our own teams and recruit new members who are going to change our business. In the past, HR has been a little slow to the table in recognising this point and using data as a catalyst for change.
Laura Burton: Key is linking it all back to the commercial model. The data that is put forward from our other colleagues, like Finance. I think that is the piece that, as HR professionals, we're always struggling with. Employee surveys are good if you want to look back six months. But if we can educate and demonstrate why it is important through predictive data, to show where the market is going – aligning this to the strategy and technology capability – that would be a game changer.
Claudia Quinton: Bringing the management team to the table and educating them around data is key and does have an impact. In fact, understanding data so that it is worked effectively and consistently should be a key part of the operational DNA.
We're talking about practicalities here, the everyday machinations of, say, running hotels. Is this practical?
Gemma Hambley: It is practical and definitely for us, it is a necessity. The demographics within our Human Resources team is changing, recently we have taken on six people with operational backgrounds. These individuals can understand both sets of data, front and back of house, and are more able to draw correlations between the two.
On the other hand, I am of the opinion that we need someone that is completely impartial to come in and interpret it, focusing on a series of topics or goals to which the business is interested or  aligned with business goals.
Michael Kerr: Agreed, and the point to remember is to link it back to the business plan and how we can help to achieve the financial targets.
And people expect quick actions to problems, and surely data is key to this
Devyani Vaishampayan: Totally, employees expect to be treated as customers, certainly in terms of feedback and here, HR has a mandate to meet these demands and utilise and deploying technology is key to achieving this.
Elena Edrenkina: Indeed, HR has this opportunity to inform and influence business decisions and strategy using data insights. Leveraging data, we can ask and test hypothesis on many critical questions: Are we aligning our best talent to our customers with the biggest business opportunity? How are our new hires performing after six months? What data insights can help us predict attrition risks proactively? The ability to influence and strengthen strategy and decisions using data insights is a critical skill.
How reliant are businesses still on retrospective data?
Kay Abbs: We totally rely on retrospective data and by the time we come to do anything with it, it is outdated. We have junior doctors who rotate on a yearly basis along with normal attrition, so you're never actually comparing a clean data set. I find that a really big frustration.
John Greatrex: We can learn from other functions, for example our group health and safety function reports to me and its established practice in our monthly health and safety reports to use both lead and lag indicators – this is common in areas of operational excellence – and what is important is to present the information in a format which the organisation can do something with.
Claire Turner: We have a lot of people within the business that already analyse data, but we tend to look at it independently from HR data. If we draw on those skills to help with HR data, this could be really beneficial. We could align data from other departments with employee engagement for example, and people could see where there are trends.
Claudia Quinton: Collaboration, is key, but it requires HR to put context around the data, for a clearer definition of intent and expectation.
Ian Thomas: That is really important, what the data will often do is reinforce or disprove your original hypothesis. So, I don't think it is one or the other, I don't think that you can just hand it over to the analytics teams and say "tell us what it means". It's that combination of skillsets, the access to the data scientists or data analytics team who can crunch the data and create a meaning, but they need guidance from your experience to be able to do that, to interpret the data in the right way.
Is there a danger of doing analytics for analytics sake?
Ian Thomas: Speaking as somebody who sits on the Board, the last thing I need is more data. What I could do with is more insight, and I think part of this is about switching it from a reporting metrics conversation to a 'what is it you are trying to understand'?
Michael Kerr: At times I wonder if, as a society rather than just HR, whether we are moving towards possible overload in the amount of data we are trying to harvest and analyse. The point is to make surveys and the necessary questions timely and relevant, or you will inevitably face apathy at best, or ridicule at worst.
Devyani Vaishampayan: Agreed, tons of data is not clever or useful, timely and relevant data always is. Ian Thomas: That is a really important point, it is not about gathering more data it is about looking at the data that you have and correlating it together. But it is also about providing context to what comes out of it.
Elena Edrenkina: We need to show employees that the polls and surveys they are contributing to are taken seriously, and to follow up with information on what actions have been taken on the back of the insights. Therefore, the questions asked should be chosen strategically and with real intent.
Do you currently link people data to financial outcomes, and business performance? Or is aggregation and segmentation a more reliable barometer?
Claudia Quinton: It is the linkage of people data and financial data and the demonstration that our productivity is having an impact on profitability. How useful would it be if you were able to demonstrate the linkage between your HR data and your financial data?
Gemma Hambley: Everyone knows that improved engagement leads to greater productivity, but at the moment, the correlation in the wide ranging data is not there to demonstrate that link and support the argument.
Claire Turner: You can easily be complacent and focus on the data that everyone says is the bread and butter basics and best practice – the easy stuff – and then miss a whole world of other potentials.
Katy Downes: We're asking employees to think more about how what they do links into business performance, strengthening the conversations around performance of the individual and with the manager – the golden thread, the line of sight, so that they can feel they're invested in the organisation. The feedback loop does improve the metrics and the individuals feel more involved.
Ian Thomas: Agreed, this golden thread is about correlation and causation, and the former is easier than understanding the latter. Every individual wants to understand the contribution that they make and how that links back to the objectives of the business, it really helps engagement.
Joanna Balfour: Indeed, engagement noticeably increases when there is clarity a clear vision and connection between the employee's role and responsibilities to that vision. In a sense, that needs to be there regardless of data insight.
Elena Edrenkina: If we assume that the expectations for each employee are clear, and the metrics of success specific, it can be insightful to look at potential correlations that may impact performance. Such as; what training has been consumed, and what level of competence in training certifications have been achieved, what capabilities exist in the organisation, and at what level, and how does capability link to business results and performance.
Devyani Vaishampayan: The level of value grows, depending on how much time and effort is invested in interrogation.
Claire Turner: I think that is a very valid point and the HR functions, needs to shift from being reactive to proactive – we talk a good story, but we're just not there as a profession when it comes to analytics.
Ian Thomas: The fact is, most HR departments don't have the money, resources or the latitude to make these changes. You have to make the case at the board table, you have to bring them onside.
Laura Burton: Sometimes, I feel that the HR profession is chasing the next exciting trend, we should focus on the basics and, in this instance, it's providing the right level of data to the staff and management to enable them to make the right decisions.
How accurately are we able to show cause and effect and how can this intelligence be used to better support planning and decisions across business?
Kay Abbs: I don't know how we make those links between data and behaviour in relation to the initiatives and interventions. Are we trying to make trend analysis comparing apples with pears? Or is it just what happens to be the trend of the moment? It really comes back to reacting to data in real-time.
Ian Thomas: The potential parameters are far and wide. Take an NHS hospital that has been hit by a bad news story in the tabloids. Run an engagement survey the following week, what would you expect with the scores a few month later? There are all sorts of other things going on in the organisation – not to mention in people's lives – that could impact on the results. So if you run an annual survey and it takes three months for the results and then three more months before you can act upon them, how relevant is that information?
Michael Kerr: I sat in our Executive Committee analysing our recent opinion survey and we were quite depressed that it wasn't as positive as we were expecting. It occurred to me that we had driven the business hard over that period to achieve our numbers, relocated staff to different locations and closed our final salary pension scheme, so it was hardly a surprise that we had some staff feeling rather bruised by the process.
Elena Edrenkina: We often hear about HR being disappointed by the results of surveys, saying that they don't represent the reality. We need to remind ourselves that the perception that employees have about the reality matters as much if not more than the reality itself. We need to address the perception, not be completely fixated by the reality.
Michael Kerr: We forget that for many people, work is solely a means to an ends and they will have little appetite to embrace great HR thinking around behaviours and processes.
Joanna Balfour: We have recently set up an Employee Action Group to encourage our employees to take more ownership for change. The group of volunteers meet quarterly, led by the COO, to discuss a challenge we are facing in our business, and generate ideas on how they could improve the situation. They own the actions and are given budget and resources to achieve them.
Claire Turner: A friend working on a cruise ship asked the employees what was causing real issues at that moment. He thought for sure most would say things like it was being away from home or that they were unhappy with their line manager. But no, there was a teaspoon war on the ship and this was escalating to real disharmony and disengagement. Next port and the incoming when managers coming onboard each holding a big box of teaspoons. That was probably never reported back to the board, but it really resonated with me.
Ian Thomas: Often, it is the little things that bug people, the simple and often invisible things and we miss those too often. We talk about corporate engagement and partner engagement and about changing the culture in order to engage and it is these little things that are the cultural indicators of change which we undervalue.
What is the future role for HR and will its role in data and analytics continue to grow or will it diminish?
Laura Burton: I think it is going to take some time to move the needle on the profession. I think there will be pockets of success and disappointment and I believe it will come down to the same base issues as when we saw the shift towards a more strategic HR partnership, which was about understanding commercially the needs of the business. These roles are sitting at HRBP level and above. What will we deem as being a good and effective HRBP of the future? We will see organisations that will move ahead, and we will see those that are still continuing to actually want an administrative HR function, which is doing a little bit of everything.
Joanna Balfour: Each business needs to determine how data can best support decision making for them. We should also consider the expertise we have around us in our business to support, for example Data Analysts.
Gemma Hambley: There is a distinct need in our organisation for an individual analyst role that is able to manipulate the data and draw operational conclusions. This will allow us to lead evidence based change in the way we operate both as a HR function, but also as a corporation
Devyani Vaishampayan: It is important to remember that the main commodity of the four biggest organisations in the world today is not gold, or oil or indeed any other core natural resource that has hitherto built the modern world, it is data. Ask the likes of Facebook and Google about the importance of data, and guess what they will say? 'It is fundamentally the most important element of our business'. That is a big shift, and ten years ago, you'd never have guessed it.
Ian Thomas: That tells a pertinent story for us all to consider closely. As senior players in our individual organisations, if we are serious about competing in the future, we too need to hold data in the highest esteem. As a profession, the more HR invests in its own learning and development to really master and harness the unquestionable power of data, the better.
Read more Roundtable Reports – click here.
If you would like to sponsor a debate, please click here for more details.