HR Director
HR Director

£90,000

pa + Benefits
Permanent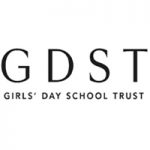 LOCATION: London

SALARY:

£90,000 per annum + Benefits

TYPE: Permanent
---
Lead the HR Function
Lead the HR vision and strategy for the organisation
About Our Client
The GDST (Girls' Day School Trust) is the UK's leading network of independent girls' schools, with over 3,500 staff, and nearly 19,000 students between the ages of three and 18. GDST's 23 schools and two academies represent the very best in teaching and pastoral care. We foster academic excellence but also build character, helping girls to be confident, resilient and fearless. Whatever her disposition and direction in life, we strive to create environments where each girl can learn without limits and thrive in her own way.
Today, the GDST is a vibrant, successful organisation and our schools are some of the very best in the country. Each one has its own distinct identity, but they all share a common purpose: to help every girl fulfil her potential and make her dreams a reality, for the benefit of everyone. Each school is characterised by a broad curriculum, academic excellence and rich programme of co-curricular activities.
The GDST stands up for all girls, everywhere, and GDST girls come from all walks of life. We aim to improve the education, and futures, of as many girls as possible, regardless of their family's financial circumstances.
Job Description:
Create a vision for that brings to life an enlightened and forward thinking approach to talent management, linked to our values (Girls First, Forward thinking, Fearless, Family)
Lead the team of HR professionals in the department and build on the excellent reputation of the HR department as a valuable resource to our network of 25 schools and academies
Be proactive in ensuring that Council, Heads and other colleagues are supported with accurate and timely advice to on all matters which have an HR implication, including any new legislation that may affect the GDST
Ensure that GDST employment policies, procedures and conditions of service are aligned with GDST's strategic priorities, as well as meeting the needs of diverse and dynamic workforce, whilst complying with statutory requirements
Specific responsibilities:
Policy:
Responsible for ensuring the most up to date and appropriate HR policy frameworks are in place for the management and development of GDST, in order to meet its strategic objectives
Keep abreast of trends in HR and talent management in the very broadest sense, so that GDST remains a relevant and forward looking employer, at the forefront of the education sector, focused on creating a culture with talent at the heart of its strategy, as well as minimising risk and exploiting opportunities across GDST
Planning:
Contribute to the formulation of GDST's strategic plan, and author the talent strategy that delivers against that plan
Plan, together with senior leaders and other appropriate members of the GDST community, for the effective implementation of agreed changes in strategic direction, policy, procedures, organisational structures or locations, with talent at the heart of our thinking
Operational Management:
Lead, motivate and develop the business partners within the HR team providing dynamic, credible and effective HR partnership with the schools
Lead on pay and benefits strategy, working closely with the head of Reward in the development and implementation of a sustainable pay policy for schools and Trust office
Support and collaborate with Heads and SMT on senior restructure programmes
Lead on the appointment and induction of new Heads of GDST schools, creating a detailed plan from interview through appointment to the end of their first year, and then beyond, which gives them the best possible introduction to their journey with the organisation and what to expect at each juncture/review point
Lead organisational change programmes such as cultural change across GDST, providing strategic input and guidance as well as ideas as a champion of talent
Develop and deliver an HR strategic plan that exemplifies what it is to have an innovative and high performance culture. Ensure we have the right people, with the right skills, in the right place, at the right time to deliver
Develop our recruitment capabilities and talent management systems so that we become less reliant on external recruitment consultancies, and develop our in-house capabilities and talent development tools
Ensure our systems and processes supporting HR are fit for purpose and deliver change where needed
The Successful Applicant:
Essential qualifications:
Qualified Chartered FCIPD
Proven track record of leading a team, as well as working at a senior management/strategic level within a complex organisation, with the ability to innovate and create step change in the cultural fabric of an organisation
Experience across HR commercial activities, experience in the education sector would be a benefit, but not essential
Excellent spoken and written English, with strong communication skills and the ability to influence and collaborate with a very broad range of diverse stakeholder groups
An understanding of budget management, and of the interpretation of statistical data
ICT literacy, including Word, Excel and database reporting tools
Personal skills/ attributes:
A high level of personal integrity, with proven experience of handling sensitive situations with tact and diplomacy and with complete confidentiality
An analytical mind and the ability to identify solutions to complex problems
Excellent leadership, interpersonal and negotiating skills, with the ability to deal diplomatically and effectively with a wide range of people at varying levels of seniority
Able quickly to establish credibility with, Trustees, Heads and Senior Managers
Self-motivated, and able to work on own initiative
Flexible in approach and able to motivate and inspire others in a team environment
Management skills to lead a team effectively
What's on Offer:
£90,000 plus a generous benefits package.
Ref Code: MPTC13960532Z
Closing Date: 09/11/2018
---