Values Count – Believing in what we do
Values Count – Believing in what we do
Author: Stuart Eglin, PhD
Review by: Gemma Dale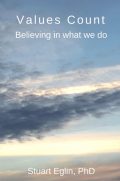 In this introductory text on values, Stuart Eglin explains why values are at the heart of our choices and our behaviour, and articulates the benefits of values based working. He
looks at the idea of working with values through both a personal and organisational lens, including exploring organisations that are values led (or otherwise). He includes a detailed analysis of how he surfaced his own values and those of his team, and how this has helped them to shape their own approach to values based working and the benefits that he has derived from this process. Throughout the book Eglin draws on his professional experiences of using values to underpin his practice, as well as the decisions he makes about his business.
Eglin argues that this is the time for values based approaches to work when we take into account the current economic and political context. When the future is uncertain,
Eglin believes that working with a strong values base and articulated purpose can help us to navigate the challenges around us.
The book contains some useful tools to help you understand and identify your own values which could equally be used by individuals or organisations. It also points the reader
who wants to take their learning to a deeper level to a range of other useful resources.
Many HR leaders coming to the text may wish for a more detailed exploration of how organisational values can be introduced and embedded, and how Eglin's personal experiences can be translated to other workplace contexts. Nonetheless, this is a good starting point to think about values, both personal and organisational.
Gemma Dale is the co-author of 'Putting Social Media to Work for the Busy Executive'.
Available from Amazon