Transform to Outperform: 7 powers to transform you, your team and your results
Transform to Outperform: 7 powers to transform you, your team and your results
Author: Susie Robinson
Review by: Monique Vander Eyken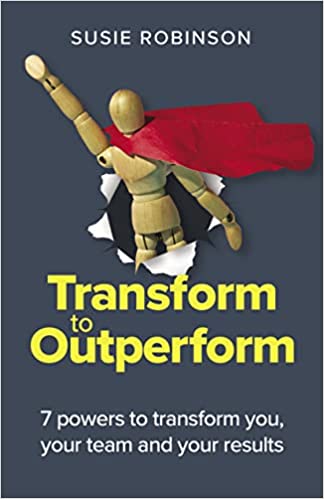 This book is intended for leaders wanting to transform their own results and those of their team and organization. It also offers human resources professionals a tool to support their business partners do the same.
You know the old saying, don't fix what's not broken! Well, whether you're comfortable, frustrated, or at the top of your game, you must transform to stay relevant, to prevent decline, or defend against disruptive forces. Don't give your competitors the opportunity to jump in and ruin what you got going.
Robinson outlines the seven powers required to transform and outperform, which when activated, make you and your team difficult to beat; Personal Powers, Goal Power, Process Power, People Power, Culture Power, Smart Power and Staying Power. She provides the necessary information to help you reach that transformation so that you can outperform your business.
How do you know you are succeeding? Not only experiencing greater personal success but also pride as you watch your team outperform in your business. Find out what it takes to create an extraordinary employee experience in a people culture; how to use constructive accountability and consequences to create an accountable culture.
Transformation occurs continuously and often invisibly, below the surface of our lives. Robinson explains how the Big Five are traits considered to have most impact on personality: extroversion, neuroticism, agreeableness, conscientiousness, and openness.
Robinson explains how we are all creatures of transformation; our physiology and brain are designed to adapt and transform as we live and learn. Then there are transformation heroes and superheroes: those individuals whose every act, often from an early age, seems destined to lead them to greatness. These people display such purpose in life, confidence in their capabilities, and a staying power which helps them navigate struggles without losing sight of their goals.
People need to make sense out of life, particularly during challenging times when a major change can rob a person of their identity and purpose. In the absence of information and purpose, people become unproductive and dependent. When a person feels the conditions for achievement are positive and supportive, commitment to goals increases feelings of wellbeing, proactive behaviour, and job satisfaction. When a person feels a goal is attainable, they perceive opportunities, control over their work, and are confident of support for achievement.
Robinson explains how successful transformation is always about the people; when properly supported, they adopt new methods and perform quickly. Transforming transactional systems and processes begins in the visioning phase and continues into implementation. This phase reveals the true scale of change. The vision or change solution is analysed for process and system impacts, organizational design consequences, training, engagement, and communication requirements.
Post transformation, the organization is more agile and employee friendly. The standards of communication, consultation, and engagement create a new expectation, which must be sustained to keep the organization and the team on the road to success.
There are always individuals who don't want to fit into the new world, are too invested in the way things are currently done, or are fearful of change. If fit remains poor after working through issues, divert or redeploy people quickly.
Robinson explains that subsequent experience of transitions crystallized the power of culture to drive performance and the importance of five key factors, which she refers to the SPACE programme: Style of leadership, People respect and support, Accountable behaviour, Customer intimacy, Excellence.
By a mile, the best indication of a people culture or brand is the authentic voice of the employee. It's hard to imagine that any company today does not understand the importance of a people-friendly culture, yet research shows that half of employees don't feel respected. Why is that, why can't leaders adapt to the new norm and value their employees the way they should. They would soon realize that this is a two-way street, a happy employee creates a happy customer.
Business transformation is a game of influence; it begins with selling an idea for change in which the risks, investments, and costs of disruption are considerable. A cohesive, unified, and loyal team perform better and exude confidence, increasing appeal and influence on other groups. When the team is easy to deal with, exciting to be with, supportive, and collaborative, positive values are transmitted.
Staying power is the organizational and leadership resilience required to navigate difficulties and convert obstacles into opportunities; the decisiveness and agility to adjust plans, practices, and resources to meet changing circumstances, yet keeping true to the vision.
Robinson stresses that to outperform we must know our comparators, their current and historic performance, and circumstances. Outperformance requires a lifetime of reinvention, a personal transformation of the leader interwoven with that of the team, in a double helix of performance peaks, learning troughs, and transformation moments.
Learn more not only through the descriptive ways Robinson explains in this book but also the action plans at the end of each chapter to help and guide you through the process. A great read for anyone wishing to remain on top.
Published by Practical Inspiration Publishing
Monique Vander Eyken, HR Consultant – MVE Consulting