Toxic: A Guide to Rebuilding Respect and Tolerance in a Hostile Workplace
Toxic: A Guide to Rebuilding Respect and Tolerance in a Hostile Workplace
Author: Clive Lewis OBE DL
Review by: Jo Twiselton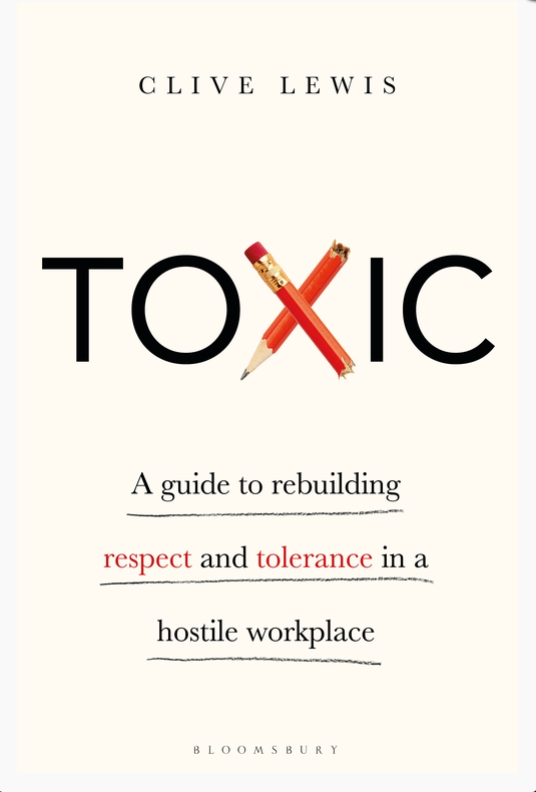 'Toxic' is one of those words that is regularly used to describe far too many workplaces right now, so it feels like the timing of this book's publication is spot on.
In this thought-provoking read, Clive Lewis, a respected business psychologist with many years' experience as a workplace mediator, explores the many different aspects that can play a part in toxic working environments.
Building on Lewis's extensive career and packed with references to theory and academic research, he shines a light on what a toxic environment can look like, what can contribute to it and shares ideas to address it.
In doing this, he explores this subject from a range of different aspects, some of which – like psychological opposites and technology – I wasn't expecting, as well as topics such as diversity and inclusion, conflict management and culture.
The book is dotted with stories and anecdotes from Lewis's career. His sharing of insights, reflections and observations, including, for example, his role in helping to resolve a dispute between a consultant oncologist and a head and neck surgeon, make it a fascinating read from a really different – and quite unique – perspective.
It also gave me a window into the world of mediation practice and the important role it can play in helping to reduce organisational toxicity.
Early in the book, Lewis refers to the organisation systems, line management capability and employee responsibility as the Toxic Triad, the three strands where, in his experience, he's consistently seen difficulties arise. To help the reader with very practical support in addressing the Triad, he includes straightforward top tips for the three levels of organisation, line manager and employee at the end of each chapter.
Although Lewis cites data and organisation diagnosis as being important in helping to spot where issues may be so they can be addressed, it's the focus on prioritising people and conversation to help address conflict rather than process which is the common theme throughout for me.
Striking a great balance between theory and research and offering practical guidance, this is a great tool for organisations who want to avoid toxicity in their workplaces.
Published by Bloomsbury or Globis Mediation Group
Jo Twiselton, Change leadership coach & consultant, founder of Twist Consultants