The Listening Leader – How to drive performance by using communicative leadership
The Listening Leader – How to drive performance by using communicative leadership
Author: Emilio Galli Zugaro and Clenentina Galli Zugaro
Review by: Adele Swan
NOMINATED FOR THE BUSINESS BOOK AWARDS 2018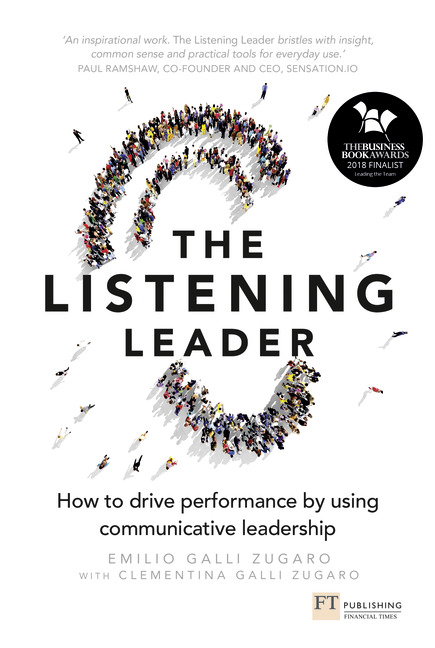 When I was asked to review this book, my first thought was "a whole book about listening? Really, is that necessary?" But then I challenged myself – how often have I worked with leaders who believe that good communication involves talking at their teams? How often have I witnessed performance conversations with employees or initial meetings with clients involved one person monologuing rather than it being a two way exchange? How often have I been guilty of half listening to something important? So I read on. In actual fact this book is about far more than simply listening, important though that is. It is an eloquently written book about how high quality communication can drive business performance in an age of social media savvy stakeholders.
Written by Emilio Galli Zugaro, who was the Global Head of Communications at the Allianz Group for 23 years, his points are complemented by the millennial viewpoint brought by his daughter, Clemetina, who has a background in psychology and educational psychology.
The author starts by making the case for communicative leadership in an era where there is a well-documented loss of trust in big corporations and their senior leaders. He argues that employees have more credibility than senior leaders so engaging them and asking them to listen to stakeholders is key. Galli Zugaro argues that "you can only embark on the journey to communicative leadership if you as a leader and your company as a corporation re-gain credibility and the trust of the stakeholders" a point which is very pertinent at this time.
He asserts that leaders who take time to communicate, rather than just focusing on achieving targets, achieve better business growth. Whilst at Allianz the author carried out an exercise to correlate good communication with business growth. He convincingly argues that if stakeholders (including customers) are heard, their interests can be taken into account and they are more likely to talk favourably about your firm. He points to some very successful organisations who have taken this principle seriously – Commerzbank and Oracle have customer advisory boards, for example whilst Nestle, Cisco and MasterCard all have social media listening rooms.
He goes on to argue that there are four aspects of being a Listening Leader:
The information provided has to be credible
The leader constantly manages the dialogue with stakeholders
They discover the energy of the stakeholders and enable them to act
They deploy the power of the tea and prepare them for action and empowerment.
Much of the book builds out the case for each of these points and gives guidance as to how to go about this. Throughout the book, the importance of good information as a way to build trust is emphasised whilst things like lying, jargon and being a spin doctor will destroy trust and credibility of both the leaders and the organisations they represent. He also stresses the importance of really listening in communication – not just pretending to – and he gives an amusing example of what he calls the "listening monster." The "monster" in questions was an individual Galli Zugaro coached to more actively listen. Although the "monster's" first attempt at this was very clumsy, his team felt more engaged as he had actually listened to them and their views for the first time.
The author also gives helpful reminders of key factors which can impact how messages are received (and therefore should be tailored.) For example, we all experience the word in different ways. We have three basic ways of thinking – the visual way, the auditory way and the feelings way. As most of us have a preference, this should be factored into communication so that we can better understand each other.
One of the benefits of this book is that Galli Zugaro recognises that in changing your leadership style, you need to carry out a change management exercise. Too often, this is overlooked in books which encourage leaders to alter their style or approach. He gives helpful hints and tips on this and argues that the change should start with self- awareness "become aware of yourself, your style, of the impact you have on people, of your strengths."
He suggests using EMMA, a technique first introduced to him by an elderly German gentleman who had lost both parents in the Holocaust. Galli Zugaro tells the story of walking alongside the man, who said very little. At the end of the walk, the man observed how much strain Galli Zugaro was under. The gentleman had observed this from the way his companion was walking. It is argued that before every significant interaction a leaders should try and analyse the audience according to EMMA.
E stands for the empathy of expectations of the stakeholders. Ask yourself how they might feel and put yourself in their shoes.
M stands for motivation – consider what drives their behaviour. What do they want?
M stands for mentality. What do they think? Who are they?
A stands for analysis – make sure you analyse your audience before you engage them in dialogue.
Although this helpful tool reminds us to think before acting, throughout the book Galli Zugaro encourages his readers just to give things a go and make a start, rather than waiting until they have figured everything out. In trying new things, he sagely advises people to learn from their mistakes whilst stopping to savour their successes. His arguments make sense – "listening to stakeholders can only make you stronger."
The Listening Leader is a warm and engaging book which, apart from making a strong case for communicative leadership, is enjoyable to read. The author is highly credible, given his long experience in senior leadership and communication roles and by admitting to his own mistakes he is more compelling. In bringing the millennial viewpoint, Clementina provides a good reminder that, in a multi-generational workforce, different groups may have different expectations of leaders and of organisations. I'm glad I read on!
Adele Swan – Director, Andare Coaching and Consulting