Leadership U – Accelerating Through the Crisis Curve
Leadership U – Accelerating Through the Crisis Curve
Author: Gary Burnison
Review by: Perry Timms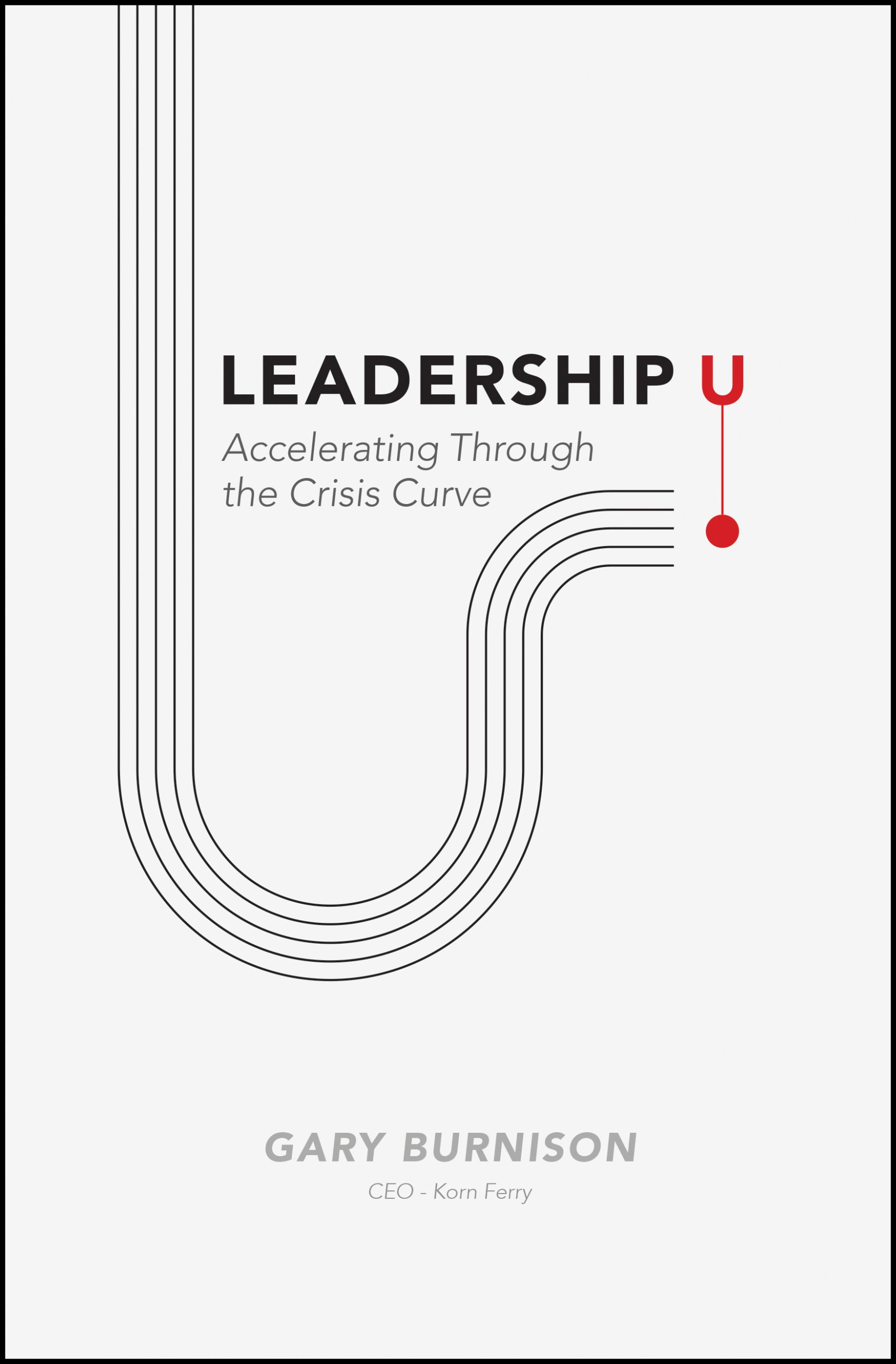 OK, so I'm sceptical about a lot of books now about Leadership. 2.8 billion returns on a Google search tells you why. Saturation and repetition.
THE most written about of business concept? In the modern world of work, I'd say so.
So another book on the topic? Do we really need another one to add to the pile?
Gary Burnison is therefore brave to enter this world. Don't we know all there is to know about what great leadership should be?
I couldn't shake that thought as I reviewed this title and didn't want to. I wanted to be really clear that this would have to impress me a lot to be worthy of a positive review.
Firstly, it's nicely set out. Some 'Red Rubber Ball' type graphics break this up into looking a little Piet Mondrian with its artsy breakups of text. Its use of red and black text is unavoidably making me think of macho, war-like tribalism (I'm a student of Spiral Dynamics and see red as a warrior colour of masculinity.). To me, that's not a good thing as we've had oodles of macho leadership for far too long.
If we're going to talk about empathy, compassion and a more emotionally intelligent version of leadership in a crisis, I'd go for pluralistic greens and inclusive teals. But that's more about me than anything derogatory about the book.
We open with an everyday story of pandemic giving that I liked. And then into some leadership lecture-esque frames around 6 qualities of Anticipate, Navigate, Communicate (a nice rhetorical tool for memorising them) and then an alliterative Listen, Learn and Lead. I'm OK with all this if not a bit 'and so?' about those as qualities. Isn't this in EVERY HBR article or MBA course, though, already?
We have a few more PowerPoint friendly lists of Traits; Drivers; Competence and Experience (HR professionals would recognise these from their work on job descriptions and frameworks). Nothing shocking or inspiring in those.
The 6 stages of Follower, Collaborator, Instructor, Manager, Influencer and Leader felt a little more useful for people to plot themselves through their development into or as a leader.
And then another 'slide-friendly' set with supporting text: Humility; Self-Awareness; Complacency(as a killer) and the interesting You are a function.
I liked the assertion that we need to be world-class observers. I was taken in by that, along with the concept of urgent patience. I liked the paradoxical mix. And not transmitting informationbut connecting emotionally. We've seen that in a lot of talks and books – Bob Chapman, Jos de Blok and latterly Marcus Rashford and Jacinda Ardern.
I wasn't taken by the right brain/left brain stuff. I'm a disbeliever that it's that clear cut, but I get the sense that the author wants us to be thinking of our more creative not clinical side.
I found favour in the Listening section – quite captivating to be direct and almost accusing of those leaders we know project a sense of fear and a sense that they must not be told the truth. I felt this section was well worth paying attention to.
The Learning section too was thought-provoking, useful and interesting and I found myself in agreement quite easily with this.
Nice humour in the 'Lead' section – not hugely profound but insightful.
So overall then: Nothing REALLY new and a revelation. Reviews on a famous online retailer's site are very favourable. If I were to give it a rating I'd struggle to go higher than 3. It's good, it's helpful, it's well-positioned. It's consumable, it's punchy but I fear it would be all too also easily ignored by leaders who need this the most.
Am I being harsh? Probably. I've seen so many enlightened stories of heart-led leaders that I have a really high bar on something new, different and compelling in the leadership 'space'. And whilst this didn't hit that high, it'll be undeniably useful to many people who are in need of a guiding force in their leadership in a time of crisis.
Perry Timms, Founder and Chief Energy Officer – People and Transformational HR Ltd, HR Most Influential Thinker 2017, 2018 and 2019