High Frequency Change – Why we feel like change happens faster now, and what to do about it.
High Frequency Change – Why we feel like change happens faster now, and what to do about it.
Author: Tom Cheesewright
Review by: Perry Timms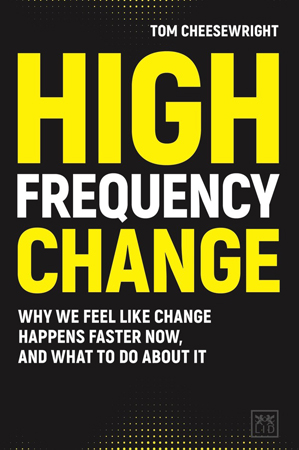 This really is my kind of book. It didn't take me long to read it which is a testament to a book that captures my attention this well that I complete it with such tenacity.
In Tom's 3 sections, the first one was by far the most gripping. When you begin with the question about the choice of fighting a horse-sized duck or 100 duck-sized horses, you're onto a winner.
I like and admire how Tom's taken on the cliches around change and given them a going over and deductive power of reasoning. He even goes into the VUCA territory and gives it a sensible place in the rest of his theory on High Frequency Change.
What Tom has done is give some legitimacy to futurism as a faction of change management for the the 21st century. We are often neophiles or neophobes – which may explain why there are people who are very pro and very anti futurism/change etc. This is a nicely balanced book which has appeal to neophiles (pro new things) and will be intriguing and helpful to neophobes (those not so pro new things). In the past I've labelled these traits as being a "futurenaut" or a "nostalgian" – I like Tom's words better
than mine.
So what does this book contain and do for readers?
I'd summarise it as a fantastic, written, 2+ hours keynote speech. Entertaining, illuminating, clever. Balanced, stimulating, absorbable. And all of those things are good in getting from the start to the end of a book.
I like the fact that I'm now more informed about the growth of domestic appliance technology and its impact on hours spent on household chores over the years; I'm up to speed on the speed of transportation change and the redundant horse industry of yore.
I'm also more informed about Lucy, from Afar, and her part in the anthropaleontology studies of our most primitive self. Use of tools, solutions to problems and advent of change is as old as time itself.
The main premise for this book is "Is change quicker now than before?" The answer is, it depends. But largely no.
Yet it feels that it is quicker for good reason. And this is the main and most useful learning point from this book.
We don't have to be breathless about change. We don't have to be constantly paranoid about being taken over. Yet we lumber on at our peril. We close our minds to what's truly going on and dismiss it as fads as a risk we have to be aware of.
High Frequency Change has a couple of main points to be aware of and avoids prescriptive instruction on how to deal with this, but sensibly provides some sensibilities and frames to consider.
Change is a mixture of amplitude and frequency. The loudness of a large crash and bang; with the regular drumming of small changes in tempo/direction. Tom uses waves as a metaphor but I'm more musical than nautical.
This is important to know in our attunement or navigation. It isn't ALL huge crescendos, it's a mixture of that and smaller, choppier changes in rhythm.
Change in the 21st century is also about our willingness and aptitude to step into the short and long term most crucially in the medium term. Tom is a little general about what this means but some of his sage is wise here: Agility as an organisation; Shifting power to the edge; Decentralising decisions and managing through principles.
In summary, an inspiring way to look at the change about change. It's not a hugely specific book littered with stories and examples from the world of work – more distinct, but related metaphors, representative scenarios and helpful anecdotes.
Partly this is why it's good – keeping things at a higher level means it doesn't get too fixated on compacted examples that some would struggle to apply.
Partly this is where it's lacking a little – no new profound examples that back up the excellent theory Tom has crafted. Some readers, therefore, might label this "thought
leadership" and imply it lacks evidence.
Overall though, I'd consider this book a reflection and an excellent hypothesis on why we think change is faster and it answers that question for me with some gusto. It's a very nicely crafted book that in itself, is written for distracted neophiles like me, and entrenched neophobes like, well, we all know a few of those.
It's something I'd recommend to others whether they are inspired by change or weary by change.
You'll be glad you tuned into High Frequency Change.
Perry Timms, Founder and Chief Energy Officer, PTHR,
HR Most Influential Thinker 2017 & 2018, Author: Transformational HR, Adjunct Faculty – Hult International Business School