The E5 Movement – Leadership through the rule of Five
The E5 Movement – Leadership through the rule of Five
Author: Paul Dupuis
Review by: Jim Kennedy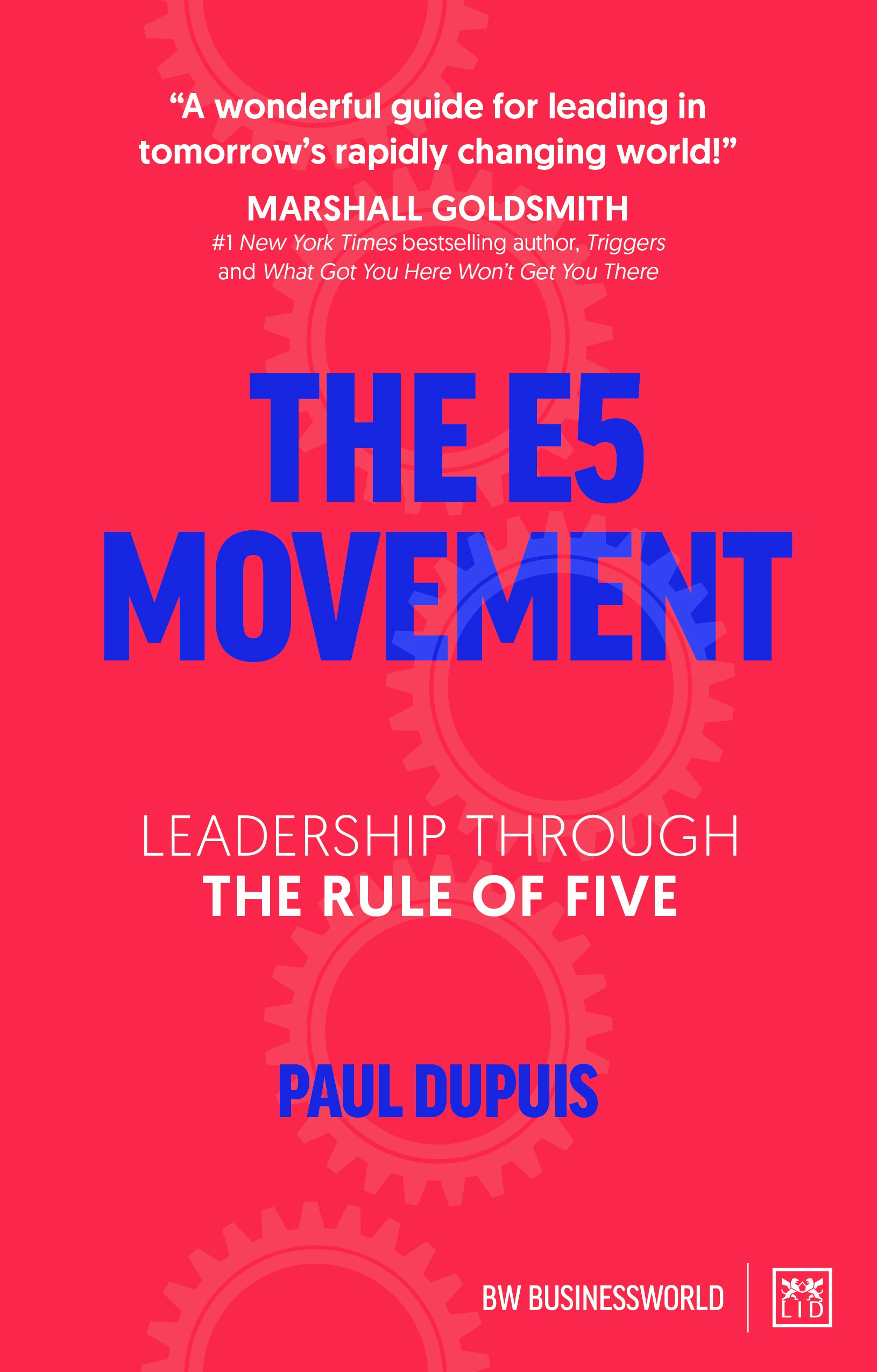 It's been said before and undoubtedly will be said again: there's a need for great leaders. Especially now that we're in the grip of a pandemic which is causing mayhem with national economies and putting millions of livelihoods at risk. Layer on the fact that the majority of people don't have trust in their political leaders. They look instead to business leaders to "take the lead on change rather than waiting for government to impose it" (2019 Edelman Trust Barometer Global Report). And yet we don't have a surplus of great business leaders either, despite leadership development being a global multi-billion-pound industry. I suspect that I'm not alone in finding the way to becoming a good leader (never mind a great one) a poorly lit one.
Jim Collins alluded to the same in Good to Great, identifying something he called 'level 5' leadership. He didn't identify what level 5 leadership consisted of. Instead, he referred to it as a 'black box'. But not terribly helpful. Perhaps the contents were too elusive for him, just as they are for so many of us even today – despite which he generated a huge interest in humility and authenticity as common (but not universal) traits of successful leaders. Leadership a la mode, then.
And it's with obvious authenticity that Dupuis takes us through his theme. His style is conversational. Enthusiasm and energy are abundant. So is his humility. His book is all the better for these characteristics and it's very readable. Dupuis' book is at heart a combination of revealing his own experiences and epiphanies about leadership and an invitation to join what he calls the E5 Movement. He's an experienced business leader and so can talk to us with natural authority; "been there, done it, now I've written the book". He has distilled his experience, both his own and that he has observed in many leaders with whom he has interacted, to propose an approach to leadership that has five essential elements; Envision, Express, Excite, Enable and Execute.
Immediately, what strikes is that these elements don't appear to be much different from other models of leadership, perhaps the most obvious similar example of which would be Kouzes and Posner's model within The Leadership Challenge. This has at least two distinctions; it's been around for years and is tried and tested being research-based (which it continues to be). And so the question arises; does Dupuis bring something new and compelling forward in the field of defining good leadership? No, he doesn't. What he does do is to absolutely nail the concept that leadership is a process. By defining leadership as a model with five elements, he is able to demonstrate how to practise each by generously providing many examples of various tactics and actions. They are all recognisable. They are all capable of being imitated and made to work. Leadership can be learned.
With that, Dupuis does not seek to define what someone must be to provide good leadership, apart from also recognising that many good leaders he has met are not the hero type, nor charismatic. They have humility and they are motivated to bring about change. Just as Collins observed, as he acknowledges. For Dupuis, leadership is about action and, to borrow from him, 'changing the game'. But there is another issue I would take up with him. Part of his reason for giving us this book is to help competent managers become good leaders, from managing the status quo to taking action to improving upon it. In doing this, he spends nearly half the book in just one dimension, Envision. He makes a distinction to be made between leadership and management and having a vision of a better future is the main part of it. That's fine, but up to a point. The inference I take from the book is that leadership and management are separable. For me, they're not. Personally, I want my business leaders to be competent managers as well. It's not good enough to make the case for and ignite change. Once change is in play it needs to be managed to achieve the desired state of things.
No mention of delegation. Precious little recognition of the role of the team and the people within it, their individual talents and expertise. Leadership presence is confined to the leader being visible and available. Which serves to perpetuate the myth about the role of a leader and leadership, that they are one and the same. I've seen it often enough and I'm sure you have too; people failing in their leadership roles because they have approached it believing that they need to lead from the front at all times and expecting to have all the answers.
This book does not bring anything new forward. It does provide a model for leadership and an argument for practising leadership like any other process. However, the model is incomplete. The book affirms a number of misconceptions prevalent in current leadership thinking and practice. Far from cracking "the code of game-changing leadership", it repackages what's been available to us for years. Which is a shame. Dupuis is undoubtedly sincere and well-intentioned, he is a brilliant writer and indisputably successful in his own career as a business leader.
Jim Kennedy, Founder and Director, Metis (People & Organisation) Consulting