The Broken CEO – How To Be The Leader You Always Wanted To Be
The Broken CEO – How To Be The Leader You Always Wanted To Be
Author: Chris Pearse
Review by: Chris Preston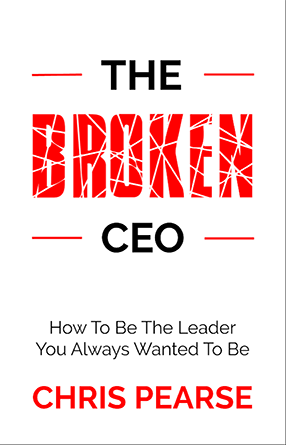 The idea of the CEO has been debated regularly over the last decade. Can one person really manage the complexity, scope and pressure of leading an organisation in today's frenetic, connected world? And yet, the majority of organisations still have that 'lone figure at the top'. This model has been sorely tested in the last few months, with the stress of the pandemic burning out leaders like never before. So, the arrival of a book that looks to support the 'Broken CEO' is highly timely.
I, at first, struggled with this book. It's not one that sets out a new and novel framework, or five-step model for remediation. This alone will frustrate the more focused reader, who is perhaps looking for a clear-cut fix. The author, Chris Pearse, blends together a whole host of ideas, with a strong emphasis on Eastern philosophy and mysticism and ranges off into whole-body thinking and the potential errors of Descartes' classic statements.
It took a re-think on my part to unpack this book properly and to extract the full value from it. Pearse is a Coach and Leadership Development specialist and, as you will be aware, working with such a person is a long process, with a series of interventions, personal experiments and reflections. The Broken CEO works really well as a book if you take a 'dip in and out' approach. Reading it in one go could be overwhelming, but sampling chapters, either by random or through need, gives you short, powerful doses of support and ideas. He writes with a friendly 'couch-side' manner that slides from ideas to practical action at the right pace and volume, with a range of topics that cover the obvious ones of trust and coaching but also stretch across to areas such as chaos and balance.
More than once I've been told that 'coaches should never write books', but I think Pearce has pulled it off. He's refreshingly light on models and focuses more on covering the fundamentals. I recently read a comment by the founders of Secret Cinema – in which they talked about creating 'experiences that were either streams of narrative or rockpools that you explored' – The Broken CEO is certainly the latter and, if you put on your explorers hat and wade into it, you will be very pleased with what you find.
You don't need to be broken to read this book, and you don't actually need to be a CEO. There's practical tips and advice throughout that we can all enjoy (I've already quoted it twice since reading) and grow through.
Chris Preston is a culture expert and one of the founding partners of The Culture Builders