Bank of Me – The Remote Working Edition
Bank of Me – The Remote Working Edition
Author: Jane Sparrow, Chris Preston & Owen Cook
Review by: Ian Pettigrew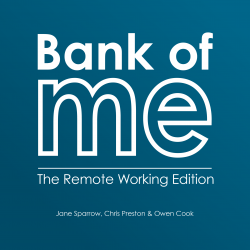 I always like a book that states its purpose, and then 'does what it says on the tin'; Bank of Me (The remote working edition) says that the book is 'about all the things that we need to do long-term to ensure that we, and the people we manage, are remaining healthy, happy and focused when not working in a traditional office environment' and that it will 'suggest things that you and your team can do on a regular basis that will keep you connected, productive, and focused'. The book delivers on that promise and does so in an interesting and accessible way. It isn't the sort of book that I'm usually drawn to – it is just over 100 pages long with lots of graphics and no references – but I enjoyed reading it.
Whilst remote working can bring lots of benefits, it can also bring challenges. Many of the things that happened naturally when we worked together in a building now require us to be a bit more intentional in making them happen. The book is based on the concept of 'bank of me', recognising that some things add to our balance and some things subtract from our balance. The book then works through emotions, culture/physiological needs, motivation, growth, and focus sharing ideas for things that can add to your 'bank of me' balance in each area. For instance the book highlights the potential lack of boundaries between work and home, talks about holding a 15 minute virtual huddle at the start (and possibly end) of the day, and talks about the power of appreciation (making sure that you appreciate people in a way that requires effort on your part).
My favourite idea in the book is this; if you're working from home, use the extra time you've saved by not commuting to create a personal growth plan (which might involve learning, chatting, networking, reading, or listening to podcasts).
Finally, I'm a big fan of learning experiments so I liked the idea of 'try a page', of encouraging people to dip into the book and try some of the ideas and create some new habits.
Ian Pettigrew, Kingfisher Coaching
Published by Culture Builders