Amazon CEO Jeff Bezos recently advised all new employees to stop attempting to achieve balance between their professional and personal lives and instead to embrace a more holistic relationship between work and home life.   Fidelity's Jeanne Thompson drew a similar conclusion in 2015 when she suggested that we should retire the term "Work-Life Balance" and instead aim to achieve Work-Life Sway1. Contributor Simon Ball, Head of International Risk & Healthcare at Fidelity Benefits Consulting.
Global research has long dispelled the myth that the more hours your workforce works, the more productive the workforce is. Recent statistics from the OECD2, shows a general trend that the fewer hours in a working week, the greater the level of productivity (determined as GDP per hour worked). According to the study:
Mexicans work the most hours per year at 2,255; however, Mexico was also ranked as the least productive
In the USA, people work 474 fewer hours, on average, than Mexicans but are over three times more
Germany, where employees work the fewest amount of hours (1,356 hours per annum), is ranked significantly higher than the US and UK for productivity.

The hours worked data seems to indicate that employers need to do more to ensure focus moves from presenteeism to productivity and this evidence supports the increased focus on well-being strategies in the workforce. There are several examples where attempts to improve the balance between work and life have been deployed:
A study in Sweden – which was fully funded by the government – examined nurses at a retirement home who worked six-hour days for almost a year, but were paid for eight hours' The results showed an increase in productivity; the nurses who participated took half as many sick days as those in a control group at a similar facility3.
In January 2017, the French government introduced a new law that required employers with more than 50 employees to establish hours in which staff should not send or answer
Corporates have also been exploring ways to improve well-being at work. NASA has experimented with short naps during the workday and both Uber and Google have started providing "nap rooms" at some of their locations.
1https://www.linkedin.com/pulse/lets-retire-term-work-life-balance-jeanne-thompson
2Data taken from the OECD looking at average hours worked in a year and productivity which is measured as GDP per hour worked. All figures taken as at 2016.
3https://www.bloomberg.com/news/articles/2016-05-10/the-six-hour-workday-works-in-europe-what-about-america?utm%203%20source=feedly&utm_medium=webfeeds
So does fewer hours and greater productivity translate into better well-being?
Measures to support employees to achieve a more harmonious approach to work and personal life are increasingly valued.  For employees, work-life balance can help boost mental well-being and motivation at work; for employers, the benefits include increased productivity, improved employee retention rates and better positioning as an employer of choice.
The chart below displays the countries assessed by the OECD as having the best work-life balance, ranked on a scale 0-10, based on indicators such as working hours and time for personal and leisure time4.
Combining this data with that on working hours and productivity shows an apparent correlation:
Mexico not only ranks lowest from a productivity perspective but also from a work-life balance
Conversely both Netherlands and Denmark have high work-life balance scores and are amongst the best performers in terms of assessed
Curiously the US features well for productivity but has poor work-life balance scores, caused in part due to the number of hours worked.
So the question for multinationals is, can they improve the well-being of their workforce whilst also delivering improved productivity? The research from the OECD and the corporate sector would seem to suggest there is a global opportunity to do precisely that.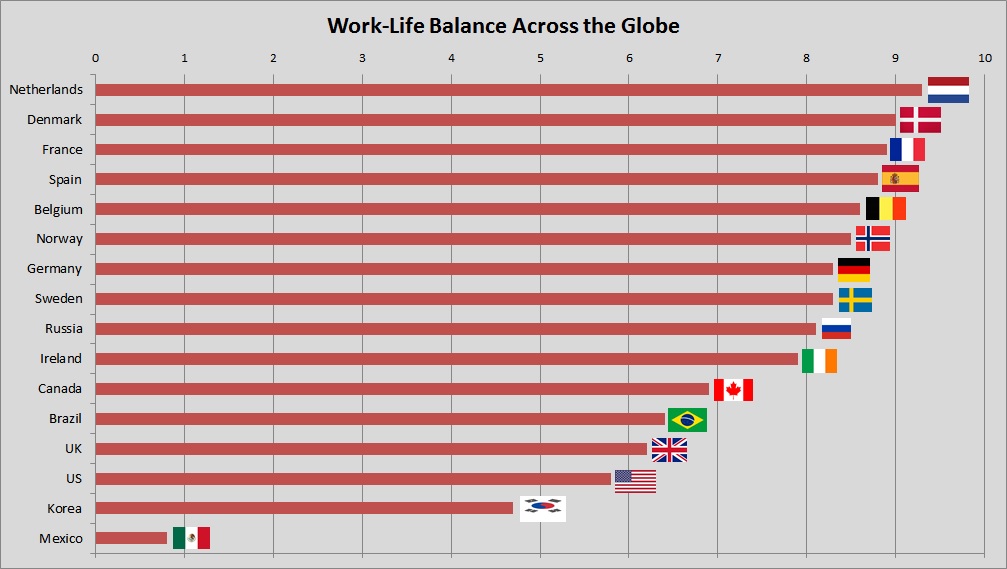 Are working hours and productivity indicators of the competitiveness of countries?
If your employees work fewer hours but are more productive, what is the impact on the overall country's competitiveness? The World Economic Forum have reviewed countries' competitiveness using twelve sets of data to establish the results.5 The following chart highlights the position of the select countries in terms of competitiveness from 1 being the most (Switzerland) to 137 being the least (Yemen).


The WEF research indicates that although there is some correlation between working hours and work-life balance, the correlation with country competitiveness is less clear. Although countries such as the Netherlands and Germany rank 4th & 5th in terms of competitiveness and return the highest work-life balance scores with below average hours worked, this is not replicated as a general trend. For example, the US and UK both rank poorly for hours worked but are amongst the most competitive countries.
So how do you balance work-life priorities whilst retaining competitiveness?
Overall country competitiveness is influenced by the social environment and regulatory regime set down by governments, coupled with the corporate efficiency. Multinationals take decisions to move manufacturing or support services to countries to take advantage of global efficiencies and advantageous regulatory regimes. The research from the WEF reflects this. The opportunity for multinationals is therefore, to explore how they can maximise the productivity and employee welfare within each country by focusing on well-being as a driver for a strong, happy and productive workforce.
4http://www.oecdbetterlifeindex.org/topics/work-life-balance/
5http://reports.weforum.org/global-competitiveness-index-2017-2018/the-competitiveness-world-map/