KW Wellbeing
Helping your People to Help Themselves
Helping your employees is not just good for them – it's good business for you.
We help leading businesses retain and motivate their people by providing a quality employee benefits service tailored to your requirements and budget. We'll provide regulated professional advice to ensure you meet your pensions obligations; optimise your price and benefits; give pensions administration support to your HR team; and arrange competitive, good quality Group life and health cover.
And we provide on-site seminars, advice clinics and a help desk, so that your people understand their benefits, value them, and get the most from them.
Contact Us
13 Austin Friars
London
EC2N 2HE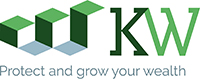 Find Us