Social Recruiting Strategies Conference
2 – 4 August

02 August 2017 Austin, TX
Hotel Van Zandt - A Kimpton Hotel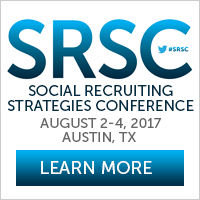 Recruiting isn't easy. With increasing lengthy hiring practices and a shortage of qualified candidates, your job is more critical than ever.
Social Recruiting Strategies Conference 2017 Austin (#SRSC) will offer best practices and lessons learned from industry leaders, recruiting gurus, and case studies of leading brands and organizations in how to recruit more effectively.
SRSC has grown to become the conference leader for recruiters and talent acquisition professionals across all industries – offering real actionable takeaways and how-to's in the latest in recruiting initiatives, platform strategies, employee engagement, employer branding, candidate experience and social sourcing.  This year we have crafted an agenda full of 3 pre-conference workshops and 4 focused breakout session tracks to suite your learning goals.
The three-day event, August 2-4th in Austin will offer you an opportunity to mix and mingle with fellow attendees, speakers, and thought leaders for three days, discussing your experiences in how to effectively leverage social recruiting strategies to find the best candidates. SRSC is an approved provider of HR recertification credits and Professional Development Credits through both HRCI and SHRM.
Learn more here