In Person Debate –
How to Build Resilient and Healthy Teams
03 August 2023 London
The Chesterfield, Mayfair, 35 Charles Street, Mayfair, London, W1J 5EB

12pm to 4.30pm (post drinks to follow until 5.30pm)

Join theHRDIRECTOR Roundtable, partnered with HealthHero, a leading Health-Tech Organisation.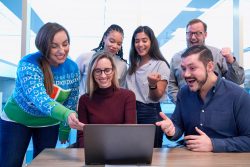 THE PROBLEM:
Resilient and healthy teams bounce back faster from challenges, adapt to new ways of working to increase efficiency and maintain a strong sense of cooperation in the midst of change. With 12.7% of all sickness absence attributed to mental health issues and 89% of workers reporting that mental health problems impact their work, building mental strength in teams will support the output of the business and the emotional needs of employees.
But you can't build mental health resilience without other core physical wellbeing areas including: psychological, physical and financial, as they are all inextricably linked. The constellation of these dynamics are impactful, debilitating and wide-ranging – people with autoimmune diseases are more likely to suffer from depression with sometimes fatal outcomes, while money troubles cannot be underestimated in cause stress and anxiety and mental illness can affect how people deal with money.
HOW WE SOLVE IT:
Whichever way you unravel it, there is no approach to wellbeing that can separate one area from another and yet employers often overlook the connection. For staff to be supported with care and understanding is so vital so vital to building healthy, happy and resilient teams and increasingly, the evidence is pointing towards a holistic and preventative wellbeing at work strategy.
In this Insightful HR Debate we will discuss how to approach these three core areas of wellbeing and how to take a preventative approach to support the whole workforce.
Some of the key points will cover:
Are you presently building resilient teams and if so, is your wellbeing strategy playing a major part in this?
What is the best approach to make psychological, physical and financial wellbeing provisions combined and cohesive?
What is the best approach to make sure your wellbeing strategy is what your employees want and need (whether remote or site based) and how do you ensure it is fully inclusive?
What are the key challenges in having multiple added value services from different providers with different ways of access? Does this create barriers to usability?
How do you ensure that access to health and wellbeing provisions are inclusive and are you making specific plans to engage younger and lower paid workers in your health and wellbeing benefits?
Is health and wellbeing currently playing an effective part in your attraction and retention strategies?
What is your ultimate wish list in moving health and wellbeing into the EVP and what do you hope it will
achieve?
(Complimentary refreshments on arrival and throughout, hot buffet 'sit-down' lunch and post drinks)
**For this Debate we invite HR and People Leaders as well as Wellbeing Leads from medium to large organisations**