HR Panel Discussion: People Analytics During The Great Resignation
28 October 2021 Virtual
On-line
Thursday, October 28th, 2021 11:30 AM EDT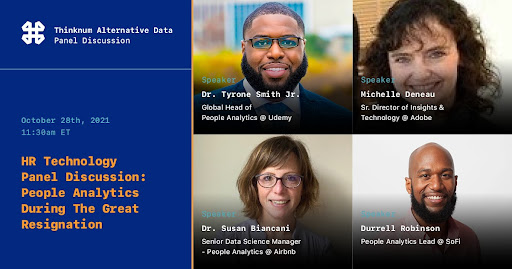 HR departments are undergoing a paradigm shift as they adapt to the challenges of a fluid workforce and improve their D&I initiatives – all while faced with persistent labor market bottlenecks. Meanwhile new technologies enable savvy HR leaders to take on bigger-picture matters, making the field more exciting, more demanding and perhaps more competitive as well.
In this session four leading HR experts will discuss trends and best practices in people analytics, and how new technologies enable HR teams to attract and retain talent during the Great Resignation.
Register here!
​​This panel discussion is part of a series of global volatility virtual events featuring thought leaders in finance, business intelligence and data. It is brought to you by Thinknum Alternative Data in partnership with The Business of Business and the Alternative Data Community Forum.
The Business of Business tracks and curates real-time information, ideas, and insider tips – for the ambitious, bold, and hungry to get ahead.