FREE WEBINAR –
Building a Feedback Culture: Top Tips for Creating a Culture of Growth and Engagement
23 November 2023 Webinar
Remote

11:00am to 12:00pm (GMT)

Join theHRDIRECTOR along side with Advanced, for an insightful interactive webinar on Building a Feedback Culture: Top Tips for Creating a Culture of Growth and Engagement!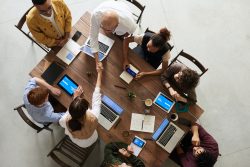 THE PROBLEM:
Feedback is an essential component of organisational success, yet many organisations struggle to implement a successful feedback culture.
Whether you are looking to improve communication, foster growth, or increase engagement within your organisation, this webinar will provide valuable insights and practical tips for building a feedback culture that drives success.
WE WILL INVESTIGATE:
The best practices for building a feedback culture within your organisation, including tips for encouraging people to give feedback and techniques for building a culture where people feel comfortable asking for feedback.
Delve into the psychological stages that people go through when giving and receiving feedback, providing insight into how individuals react to feedback and how to manage these reactions. With real-world examples from our customers, we will explore how they have built successful feedback cultures, sharing their strategies for success and lessons learned along the way.
OUR PANELLISTS:
To Be Announced Soon…
We will be running a series of polls in the Webinar and welcome your questions throughout with a final Q&A at the end.

Sign-up now and learn from experts in the field and discover how you can build a culture of feedback!