Employer Branding Strategies Conference
16 – 18 May

16 May 2017 Chicago, IL
The Union League Club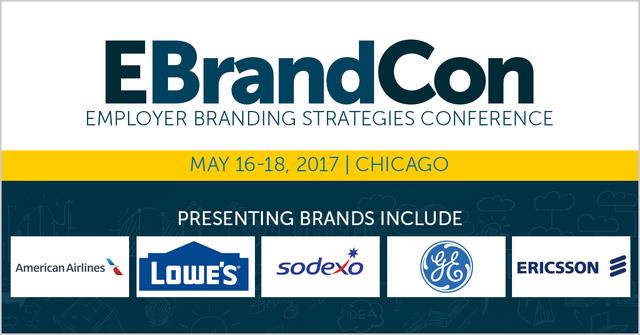 Employer Branding Strategies Conference 2017 Chicago (#EBrandCon) showcases leading company profiles and gathers top branding minds to share insider tips and strategies for improving and leveraging your employment brand.
This three-day event will bring in leaders spanning industries such as GE, Nike, Lowe's, Ericsson, American Airlines, Sodexo, and others to (candidly) share lessons learned in employer brand strategy development and execution. When you get back to the office, the real conference work begins – integrating the wealth of takeaways learned at the event into your existing strategy. It will be all hands on deck to apply the great lessons and tips from #EBrandCon!
Highlights Include:
Award Winning Speakers: Be inspired by the very best! Hear from top employer branding influencers and thought leaders, as well as brands recognized for their exceptional employer brand best practice.
A Corporate Setting: Join fellow practitioners over 3 days for high-level discussion -no evangelists or blue-sky thinking, just real life examples from real brands.
Actionable Lessons: Access tips for employer brand content development, launching campaigns via video, leveraging engagement & data, and steps to plan, implement and measure a real brand strategy.
#EBrandCon 2017 (May 16-18) will be the most valuable three days away from your office all year – don't miss out on this sell-out event.
Early bird discounts expire April 14th – register and save!
Use our exclusive discount: HREVENT2017 to save big!
For further information click HERE