Business Disability Forum conference 2019: Disability leading the way
25 April 2019 London
The British Library, 96 Euston Road, London NW1 2DB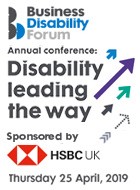 Date: 10:00am on Thursday 25 April, 2019 to 5:00pm on Thursday 25 April, 2019
Venue: The British Library, 96 Euston Road, London NW1 2DB.
Cost: Partners and Members: £249, plus VAT* / Non-members: £311, plus VAT.
Generously sponsored by HSBC UK
Within business, who is leading the way regarding disability? What does this look like? How is it being done?
In a world where Brexit is looming, now more than ever before, we need to hear from business leaders who continue to lead the way within their organisations and have made a real impact in the lives of disabled people. Business Disability Forum – not-for-profit membership organisation that makes it easier and more rewarding to do business with and employ disabled people – is hosting the conference 'Disability leading the way', hosted by the British Library in their Knowledge Centre, offering an opportunity for you to learn from key individuals who have shown true leadership in effecting change within their organisations.
It will feature discussions on the following:
Tearing down taboos – We all know that there are taboos around certain conditions, but why is that? Why are we hesitant to talk about these conditions that affect such a large proportion of the population?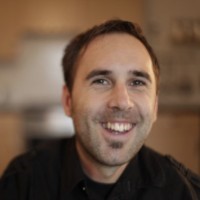 Leading the way – the next generation and the change makers – In this discussion hear how the next generation are leading the way creating change through their millennial or centennial view of diversity; or through new technologies and social media platforms for engagement. Martyn Sibley (pictured right), named the fourth most influential disabled person in the Disability Power 100 list, will take part in this panel.
Recognising the best – This panel will share the latest best practice initiatives taking place among their peer organisations. Business Disability Forum's Disability-Smart Award winners, will be sharing nuggets of wisdom about how to lead the way and get it right on disability within your organisation.
Leading from the top – This panel will feature senior leaders from across industry sectors giving advice on how they have influenced huge change in their organisations. We will also be hearing from Dr Caroline Casey who heads up the influential #Valuable campaign and the Valuable 500 which was launched earlier this year at the World Economic Forum annual summit in Davos.
Book your place today to learn how getting it right on disability can lead to transformational change within your organisation but also so often means you get it right for everyone.
*Business Disability Forum Partners are entitled to one complimentary place per organisation. If you would like to attend this event as part of your Flexible Partner Offer, please contact your Business Disability Forum Strategic Advisor directly.
Not sure if your organisation is a Partner or Member? A full membership list can be found using this link.
To register your place today please click HERE